RECAP: College of Fine Arts Student Showcase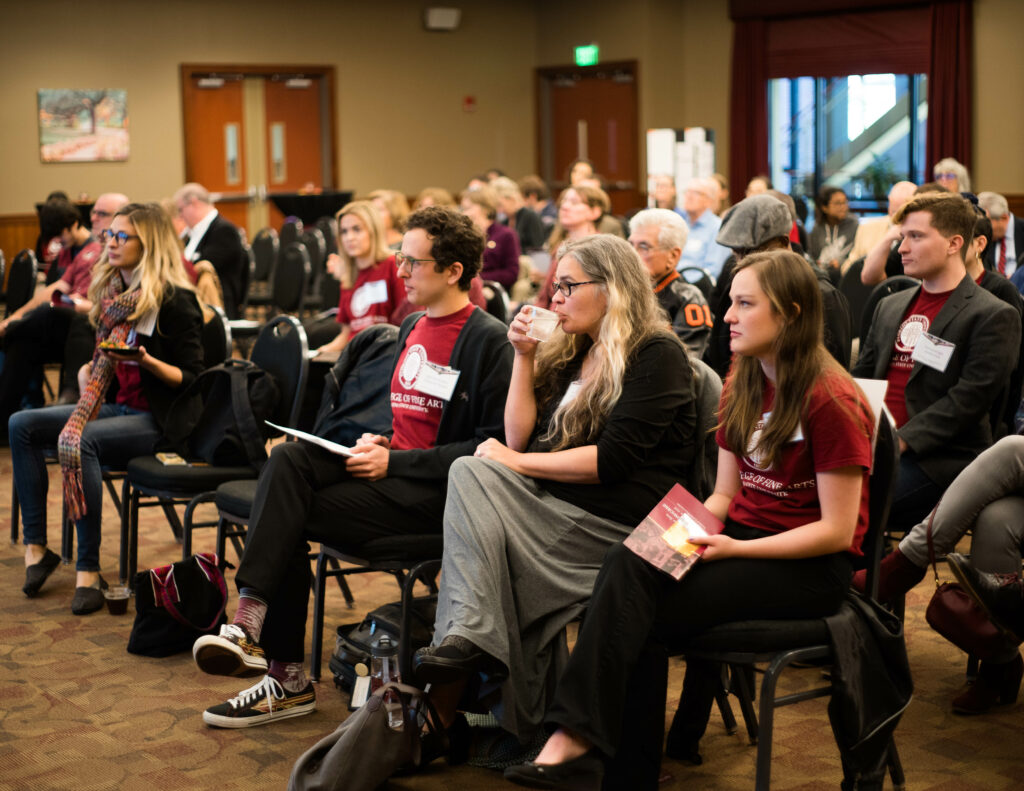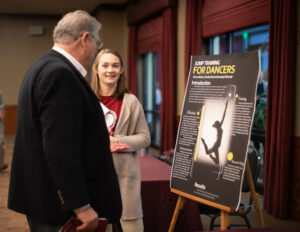 On Friday, November 16, 2018, the College of Fine Arts hosted the second annual College of Fine Arts Student Showcase at the Augustus B. Turnbull Conference Center. Twelve outstanding students, both graduate and undergraduate, presented on a range of topics from across our six departments.
The College of Fine Arts Student Showcase brings together the greater FSU community to learn about the creative research of our high-achieving students.
Two students from each department – Art, Art Education, Art History, Dance, Interior Architecture & Design, and Theatre – presented projects on major topics from their studies. Our 2018 presenters included students who wrote their own plays, designed offices for major corporate companies, and even presented research at a national conference. It's clear that our students are pushing the boundaries within their fields of study!
The twelve presentations were divided into two sessions which allowed student presenters to share their research in a variety of formats including: videos, lectures, books, and posters. Attendees were invited to meet individually with the students to ask questions in an intermission breakout session. Attendees enjoyed learning about student work across our departments and they had the chance to discover common themes from each discipline.
---
---
The College of Fine Arts would like to send its heartfelt congratulations to the 2018 College of Fine Arts Student Showcase Participants:
Art
Kassandra Spence, MFA 2019, Driving
Kassandra Reguera, BA Spring 2020, A Compendium of Unbelief and Going A Distance
Art Education
Michelle Torrech Pérez, MS Fall 2018, Multicultural Competence And Art Media: A Survey Study On Culturally-Attuned Art Therapy Practice
Alexandra Allen, PhD, Using Arts Based Research Methods to Understand Identity Development Through the Lens of Critical Disability Studies
Art History
Gabriela Germana Roquez, PhD 2020, Doing It Their Own Way. From Traditional Aesthetics to Artistic Images: The Paintings of Sarhua, Peru
Meg Barrett, BA Spring 2019, Order and Passion: The Impact of Travel on Delacroix's "Cleopatra and the Peasant"
Dance
Clara Isabel Molina, BFA Spring 2019, Jump Training for Dancers
Kieron Sargeant, Fall 2019, "Choreographing Mourning" A Ritual of the Spiritual Baptist in Trinidad and Tobago
Interior Architecture and Design
Kiera Malcolm, Spring 2019, 'Garten Pantry' Grocery Of the Future
Kailey Carter, BS Spring 2019, The Augmented Laboratory: An Office Project designed for Shulman + Associates
Theatre
Nick Richardson, MA Spring 2019, A Dramaturg, a Thesis, and A New Brain
Wendy Parkulo, BA/BS Spring 2019, A Lily Among Roses: An Imagining of the Opening Night of "Tempe Restored" 1632
---
A special thanks goes to the individuals who made awards to these 12 students possible:
Lillian Carlton Joughin Criddlebaugh Endowed Scholarship
Andrew & Michelle Feinberg Student Excellence Award in Performing Arts
Sam & Laura Rogers, in honor of Brooks Rogers