Interior Design and Architecture Students Featured in "Inspired News"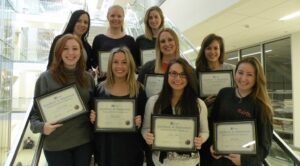 The Department Interior Architecture and Design students recently participated in a competition held by Kravet Fabrics and Home Furnishings. The students had to develop the design for a two-story, 6,000-square-foot penthouse on Park Avenue in New York City, applying universal design principles, architectural details, materials, finishes, furniture and accessories to the empty floor plan. Each student was also given a particular client profile with certain goals to develop each unique layout.
FSU students Abby Kern and Cameron Robb were named the winners while overall finalists included Ginny Duke, Katie Galvin, Mary Johnson, Alexis Moore, Katie Oliver, Brooke Peoples, Katie Piercy, and Rebecca Thompson. The students are currently featured in the winter 2016 issue of  Inspired News, Kravet's quarterly magazine.
To view the article visit the online version of Inspired News.