Bauhaus100: Opening Reception and Lecture
03oct5:00 pm8:00 pmBauhaus100: Opening Reception and LectureA centennial celebration exhibition at the William Johnston Building Gallery5:00 pm - 8:00 pm
Time

october 3, 2019 5:00pm - october 3, 2019 8:00pm
Location

William Johnston Building (WJB)
Event Details
Please join us on October 3 at 5:00 PM for the opening reception in the William Johnston Building Gallery & Dr. Hartzell's lecture at 6:00 PM in WJB G40.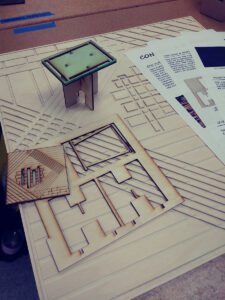 This year design and art communities throughout the world are celebrating the centennial of the founding of the Bauhaus, a progressive design school established by Walter Gropius in Germany in 1919. During the Spring 2019 semester, Prof. Marlo Ransdell adopted into her furniture design class the Bauhaus pedagogy of "practical learning" – a unity between the applied arts and new digital manufacturing techniques – to design functional articles for everyday use. "Bauhaus100" features the results – a dazzling array of decorative panels and furniture maquettes, together with a video highlighting the design and fabrication process. The goal was to explore the Bauhaus not as a stagnant modernist utopian school, but as a model upon which we can, in Gropius's own words, "become members of the community" and "liberate everyone's creative potential." Come and see these students' novel approaches to problem solving, perceptive observations of reality, speculative visions of the future, and mastery of the elements of design.
The opening reception will feature a lecture by Freyja Hartzell, Ph.D., Assistant Professor of Design History, Bard Graduate Center.
"Cathedral of the Future: Speculative Design at the Bauhaus"
What is the difference between speculation and realism? What role should each take in the process and product of design? These questions were central to the struggles of the Bauhaus School, poised between mysticism and humanism, fantasy and pragmatism, exploration and precision, avant-garde and mass-market, financial failure and commercial success. This talk will explore the central tensions over the conundrum of speculative design at the Bauhaus in relation to the social, economic, and political turmoil of the Weimar Republic (1919-1933) through its once speculative, but now iconic objects.
The exhibition will run through October 25.